Linear Vibrator Tray Manufacturer, Exporter in India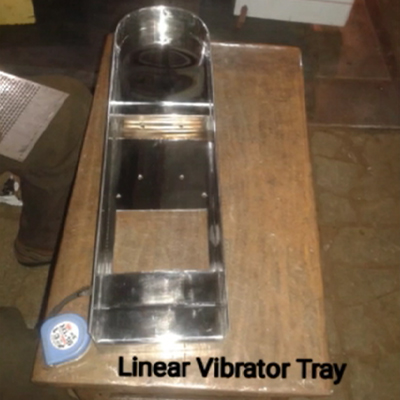 What is a linear vibrator tray :

A linear vibratory tray or feeder is an equipment which converts electro-magnetic vibrations to mechanical vibrations. These mechanical vibrations are used for movement of the tasks along the tray. These trays are used for feeding appliances or parts to other machines for processing. The vibratory feeders use gravity and vibration to move the materials. These are ideal to feed various kind of materials in a high speed and automated manner. These are made up of low carbon steel and also with the help of electro magnets. As the magnet gets energized the tray vibrates and the materials get transferred. These type of vibratory feeders are useful in rubber, plastics, food, chemical, pharmaceutical and other related industries. A slight wet material also can be handled by these devices without any damage to their basic qualities. Some of the salient features of the equipment are as below:
The vibratory trays display maximum efficiency.
The maintenance cost are much low.
As stainless steel is used in the making of these devices, they are corrosion free and non-rusting giving additional benefits.
The instruments are most energy efficient.
The performance depicted by the machine is hassle free.
We are one of the leading manufacturers and suppliers of linear trays. Our linear tray are made up of stainless steel and the manufacturing is done following all the domestic and national norms as required. These are manufactured by our seasoned experts using best quality components and the latest techniques. We provide customized vibrator trays as per the specifications from our clients. We have carved a good name for ourselves in the industry due to supply of high quality machines to our clients. Our clients are satisfied with our quality products and services provided by us.
Advantages :
There are certain advantages of our linear tray which can be highlighted as below:
Washable conveying surface in the main part of the feeder trays.
Quick start and stop of the instrument.
Constant and stable parts, no moving parts attached to the device.
Compact design that can fit into any space or new space easily.
Made up with stainless steel material having its own benefits like non-rusting and corrosion free.
Low voice operation or negligible voice operation.
Portable and static both types of versions are available.
Why us :
At our workstation, we follow a set of standard procedures and policies which are ethical from the business point of view. We have an expert team of skilled professionals who are determined to follow the pre-planned production programme to achieve the desired production targets. We try to keep our approach most economical and low budget from the view point of our clients. We have maintained our strategy of making timely delivery of the devices to our clients as a result of which we have a good number of loyal clients who look up to us for satisfactory services.